Ebook Price:
$6.99
Paperback Price:
$14.99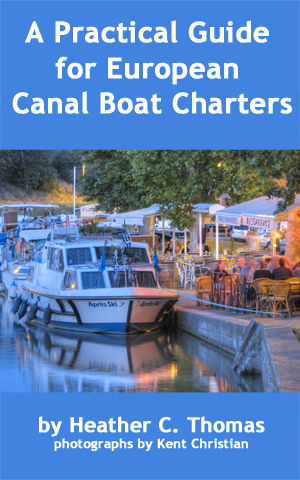 Shocked to suddenly find herself in temporary possession of a six-ton canal boat in France, the author quickly realized that she should have asked more questions during the charter company's briefing. But until cruising the canals, she didn't know what she didn't know. This is the book that she wished had been available!
A Practical Guide for European Canal Boat Charters is written by Heather C. Thomas (a French canal boat owner and former charterer) for the novice to this type of boating vacation. This book prepares the reader to cruise on the canals by highlighting qualities of a good charter company and offering tips for boat handling. The book covers basic waterway etiquette, includes photos of signaling lights and mechanisms, and presents detailed instructions on lock operation as well as insights into European culture. It also celebrates the beauty and simplicity of life on the canals and offers advice to travelers seeking a gloriously relaxed way to travel in Europe.
This guide is a must-read for anyone planning a canal boat vacation and is available as an ebook or paperback from Amazon.com.
"Of all the methods of travelling I have ever tried this is the pleasantest…"
– Thomas Jefferson, on the Canal du Midi, France 1787

Of course I have many friends who have taken canal boat cruises down various rivers in Europe, but when I had checked on them, they were both pricey and "organized", not my favorite way to travel. But Ms. Thomas' book, A Practical Guide for European Canal Boat Charters, opened my eyes to a whole new way to travel. And as Ms. Thomas points out, "Cruisers are travelers, not tourists." A way to unpack once, and travel at a leisurely pace, stopping when you want, seeing parts of the countryside you'll not likely see any other way, and importantly meeting strangers who become friends, perhaps for only a day, perhaps for a lifetime. Once Ms. Thomas introduced me to this new idea of how to travel, enchanted me with her stories, then she proceeded to provide the information to give me the confidence that I could do this. Wonderfully practical knowledge, both about handling the boat, and how to make your way through the rural countryside of France, and deal with the constraints of living on a boat. While I have never owned a boat, nor chartered any type of boat, I now feel like I could make arrangements with a charter company, fly to France, and after a short introduction by the charter company (Ms. Thomas provides a checklist, so that you can be sure to get and see all the information you need), to take off on a 4 week trip (maybe even an entire season) through the canals of Europe. The how-to's are intertwined with the right amount of descriptions of the travelling / cruising life to make this a great read, even if you skip over all the boat handling information.