Ebook Price:
$6.99
Paperback Price:
$14.99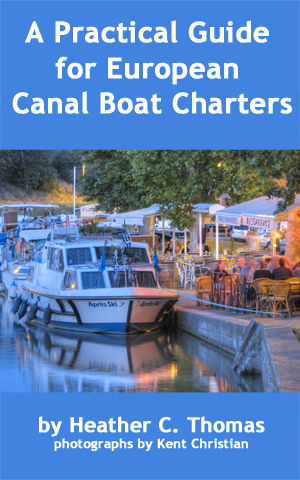 Shocked to suddenly find herself in temporary possession of a six-ton canal boat in France, the author quickly realized that she should have asked more questions during the charter company's briefing. But until cruising the canals, she didn't know what she didn't know. This is the book that she wished had been available!
A Practical Guide for European Canal Boat Charters is written by Heather C. Thomas (a French canal boat owner and former charterer) for the novice to this type of boating vacation. This book prepares the reader to cruise on the canals by highlighting qualities of a good charter company and offering tips for boat handling. The book covers basic waterway etiquette, includes photos of signaling lights and mechanisms, and presents detailed instructions on lock operation as well as insights into European culture. It also celebrates the beauty and simplicity of life on the canals and offers advice to travelers seeking a gloriously relaxed way to travel in Europe.
This guide is a must-read for anyone planning a canal boat vacation and is available as an ebook or paperback from Amazon.com.
"Of all the methods of travelling I have ever tried this is the pleasantest…"
– Thomas Jefferson, on the Canal du Midi, France 1787

Don't even think of going on a canal trip without reading this book. It covers every aspect of taking a canal boat through Europe, on a charter or your own. Even if you're taking a canal cruise, reading about the history, the canal etiquette, and the canal lifestyle will make your trip more enjoyable. It covers every practical aspect, but also gives you a great feel for what the canal life is like, all in interesting and readable style. I'll be sending copies to friends who are dreaming of a canal adventure.