Ebook Price:
$6.99
Paperback Price:
$14.99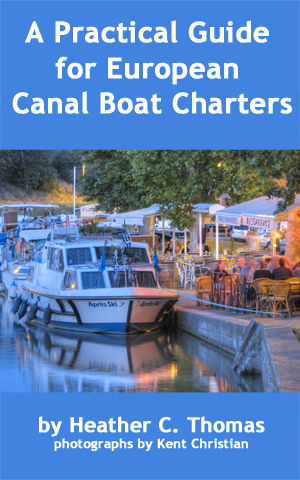 Shocked to suddenly find herself in temporary possession of a six-ton canal boat in France, the author quickly realized that she should have asked more questions during the charter company's briefing. But until cruising the canals, she didn't know what she didn't know. This is the book that she wished had been available!
A Practical Guide for European Canal Boat Charters is written by Heather C. Thomas (a French canal boat owner and former charterer) for the novice to this type of boating vacation. This book prepares the reader to cruise on the canals by highlighting qualities of a good charter company and offering tips for boat handling. The book covers basic waterway etiquette, includes photos of signaling lights and mechanisms, and presents detailed instructions on lock operation as well as insights into European culture. It also celebrates the beauty and simplicity of life on the canals and offers advice to travelers seeking a gloriously relaxed way to travel in Europe.
This guide is a must-read for anyone planning a canal boat vacation and is available as an ebook or paperback from Amazon.com.
"Of all the methods of travelling I have ever tried this is the pleasantest…"
– Thomas Jefferson, on the Canal du Midi, France 1787

I have been travelling the canals & rivers of France for 14 years on my privately owned boat so this book did not offer me much in the way of advice and guidance. But this book is not meant for experienced cruisers — it is aimed fairly and squarely at those planning their first cruise. So now when friends of mine ask me for pointers on what to take, what to expect and how to go about planning their boating holiday in France I can simply refer them to this easy to read and informative book. It is concise and can be be read in an hour or two but every page has helpful advice. The small spend on this book should offer a decent return on your investment and help you avoid pitfalls & enrich your daily travels. You may only have a week or two on your hire boat but if you are armed with this book it should help ensure that you have no unwelcome surprises. In summary, if you have boating experience and have previously cruised the canals & rivers of France then you might not get much from this book. But if it is your first time, you will only benefit from the tips & suggestions contained in this book.